1st Lt. Jason D. Mann Memorial Hunt
Reporting on the 1st Lt. Jason D. Mann Memorial Hunt
Benefiting The Families of the Wounded Fund
A 501(c)(3) Charitable Organization
Held on Saturday, November 5, 2016
---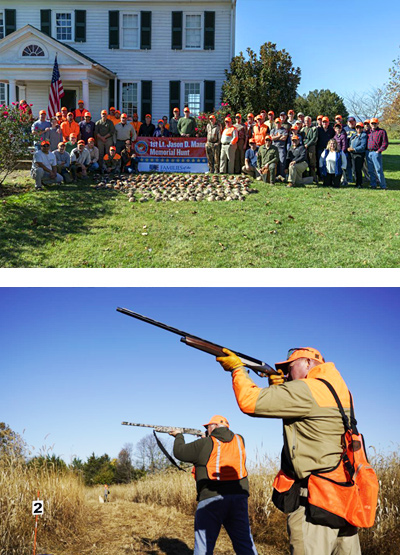 On 5 Nov 2016 the Greater Fredericksburg Families of the Wounded held its 6th Annual Lt Jason Mann Memorial Hunt at the Rose Hill Game Preserve.  This year we hosted 6 Wounded Veteran Hunters as our special guests and had 18 other hunters participate for a total of 24 hunters.
This was our largest hunt ever and we raised a total of $50,390.00 thanks to the generosity of our sponsors and hunters.  These funds will be used to provide grants to families of our most severely wounded military veterans who have fought in the Global War on Terror.  Our hunt was blessed with beautiful weather for both the morning European Tower Shoot and the afternoon Upland Game Hunt.
Our volunteer staff provided both a delicious and bountiful breakfast and lunch for the hunters, Rose Hill support staff, and all the volunteers who attended.  In all we had over 65 people attend. We were fortunate to have Lt Mann's Mother, Alfina Mann in attendance again this year and we are always honored by her presence. Special thanks goes to her for providing all the Hunter Goody Bags.
We would also like to recognize and thank Mr Duncan Smith for his significant donation to and sponsorship of this hunt every year.  We would not be able to hold this special hunt without his generosity and support.
We also want to recognize Randy Johnson of FGS, LLC and Bob Pleban of RPI Group, Inc for their sponsorship of Wounded Veteran Hunters as well as Justus Cliser of Gun Works for his donation of two shotguns for the shotgun raffle.
We also want to thank our photographer Mr Milton McNatt for volunteering his time to come out and take the wonderful pictures of the hunt that are posted on the this web site.  COMING SOON!
Finally we want to thank Dr John Covington and his Rose Hill Game Preserve Staff for hosting us and putting on another superb hunt benefitting our Wounded Veterans and their Families.  John Allison Lt Mann Memorial Hunt Co-Chair.